Here at Litmus, we're big on helping email marketers work more efficiently and optimize the effectiveness of every email they send.
This month, we're proud to introduce new features to help email teams optimize their workflow, level up their email QA & testing processes, and deliver more powerful personalized experiences.
Say hello to our latest features!
Email Testing Profiles
You asked, we listened! Introducing Email Testing Profiles. Level up your email QA process and test the way you want.
Now, you can create custom lists of email clients and devices so you can focus your testing efforts where you need them most.
Need to focus on Dark Mode? Create a Dark Mode testing profile. Need to fix a bug in Outlook email clients? Create an Outlook-only testing profile. The options are endless!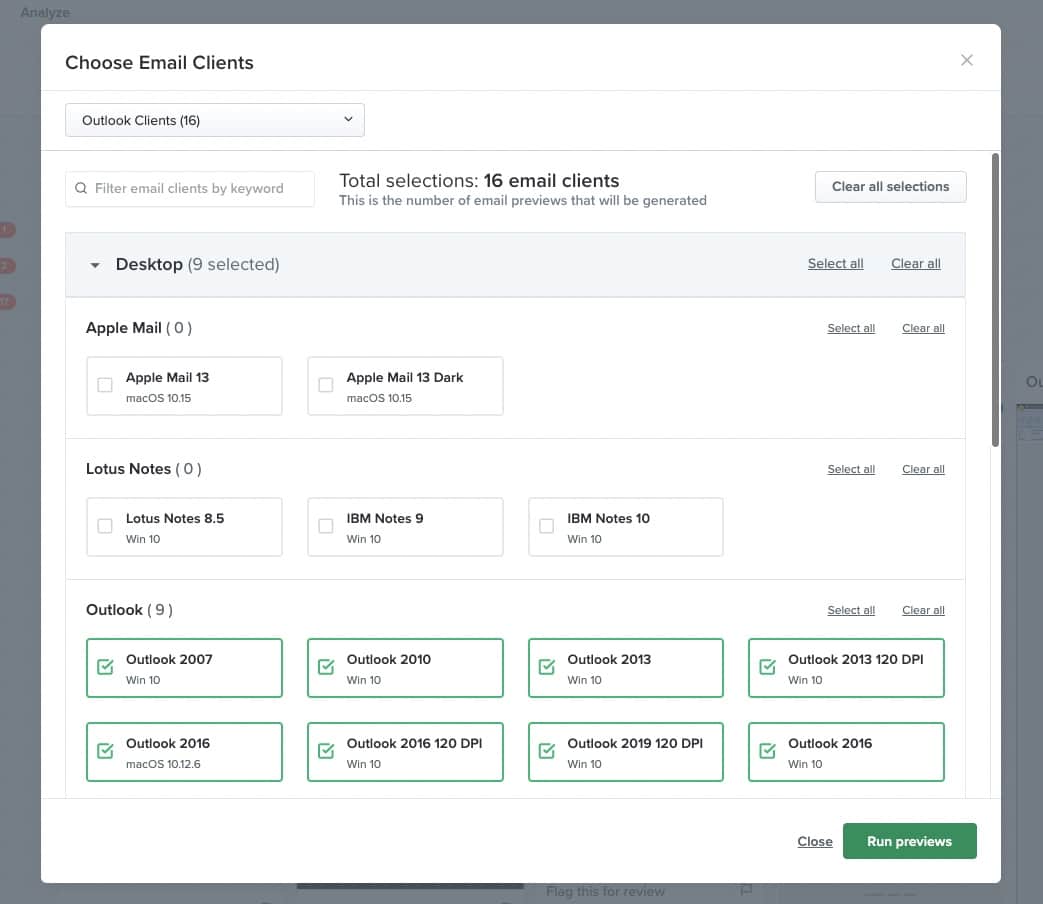 Whether you're debugging an email as you build, or paying special attention to certain email clients before you send, Email Testing Profiles are the time-saving trick you need to get more pixel-perfect emails out the door, faster.
Easily create and manage an unlimited number of curated client and device lists in Litmus Builder and Litmus Test. Plus, you can better manage preview usage with the ability to see how many clients/devices are included in each. 

Friendly heads-up: This feature is available exclusively for Litmus Plus and Litmus Enterprise plans.
Litmus Extension for Klaviyo
Give your email production and testing workflow a speed boost as you build in Klaviyo with Litmus Extension.

With Litmus Extension for Klaviyo, you can build and test personalized, dynamic emails more efficiently. Use Litmus' Chrome browser extension to preview emails across 100+ email clients and devices and perform other critical pre-send checks—without switching between tools.
Friendly heads-up: This feature is available exclusively for Litmus Plus and Litmus Enterprise plans.
Litmus Personalize Explore Gallery
There's an infinite number of ways you can personalize your emails, but where do you start? That's where the Litmus Personalize Gallery comes in.
Our new email inspiration gallery in Litmus Personalize will help you find the perfect personalization tactic for your next email. Explore a whole world of personalization—right at your fingertips.

Current Litmus Personalize customers can reach out to their Account Manager or email hello@litmus.com to activate the brand new Explore gallery at no additional cost. Not yet a Litmus Personalize customer? Drop us a line at hello@litmus.com and we'd be happy to take you on a test drive of the inspiration gallery!
Friendly heads-up: This feature is sold separately from core Litmus plans.
New email client support
See what your emails look like in four new email clients—including iPhone 14 (Dark and Light Mode).
Test on the latest email clients and devices, including:
iPhone 14 (iOS16)

iPhone 14 Dark (iOS16)

iPhone 14 Pro Max (iOS16)

iPhone 14 Pro Max Dark (iOS16)
Friendly heads-up: Testing support for these new email clients is available for all paid plans.
Make every send count
Helping you build and test emails more efficiently is our jam! We're thrilled to share our latest features to help you level up your email QA & testing process and wow subscribers with powerful personalization tools and inspiration at your fingertips.
If you're already a customer on a Litmus Enterprise plan, see what's new in your account. Otherwise, get in touch with us to see how you can get access to all of the latest Litmus features.